Title:  Out on the Serve
Series: Out in College, Book 7
Author: Lane Hayes
Publisher: Lane Hayes
Release Date: July 10
Heat Level: 4 – Lots of Sex
Pairing: Male/Male
Length: 55K
Genre: Romance, New Adult, Bisexual, Friends to Lovers, College romance, Athletes, Volleyball, Humor
Synopsis
Roommates to friends to lovers…
Elliot-
I need a roommate fast. Even a temporary one. Beggars can't be choosers. Going pro after graduation has been intense, and time is precious. Thankfully, Braden seems cool. He's a little quirky…and very sexy. Of course, I would never get involved with a roommate. That's a bad idea. Isn't it?
Braden-
Moving to Long Beach seems like a no brainer. It'll be a perfect chance to wind down before grad school and a nice respite from my folks. Plus, my new roommate is a great guy. A little messy, but sweet. Gotta admit, I like him more than I should. And we're off to a strange start when a mutual friend hooks me up with his ex. Elliot's the one I want, but going from friends to lovers is a risk. We could end up out on the serve…or we could win it all.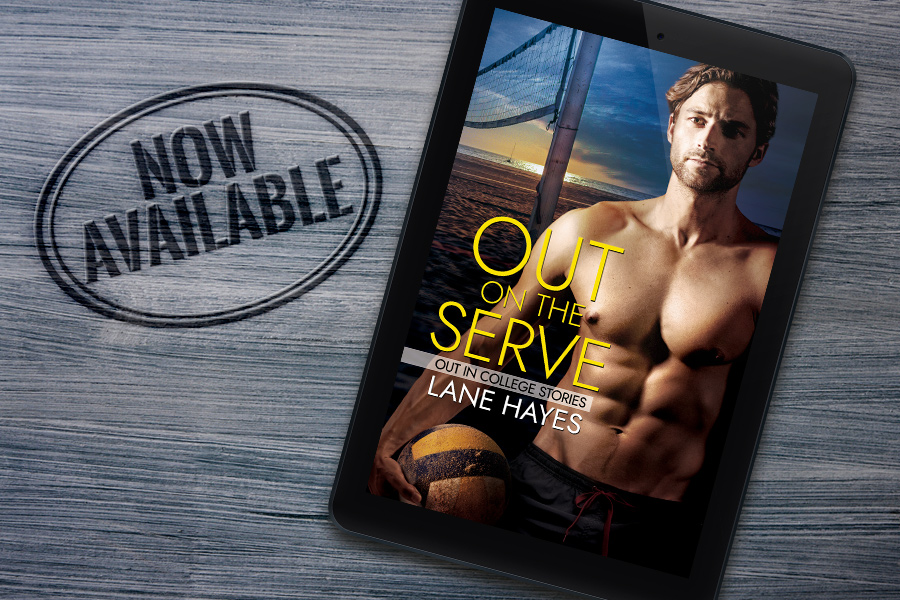 Excerpt
Ten minutes later, I tied a towel around my waist and opened the bathroom door to release some steam just as Braden opened his bedroom door.
It might have been my imagination or wishful thinking, but I could have sworn he eye-fucked me before he met my gaze.
"Mornin'," I said in a raspy voice.
"Good morning."
"How'd you sleep?"
"Pretty good. Are you going to the beach today?" he asked awkwardly.
"Yeah. I'm leaving soon."
"Hmm. I heard the swell is huge," he said in a fast, clipped tone.
I crossed my arms and leaned against the doorjamb. "Yeah, I heard that too. There's some big storm off the coast of Mexico."
"Right."
"Want to come with me?"
"To Mexico?"
I barked a laugh. "No, dork. To the beach."
Braden chuckled. "Believe it or not, I'm going to the theater. Sophie talked me into trying out the assistant gig. Hopefully, it'll keep me out of trouble."
And there was the opening I needed. I wasn't sure how to word it, though. The hint of unease between us told me that I should proceed with caution. We had to be on the same page and willing to try something new and—fuck. My window of opportunity was closing. Braden's cheeks reddened as he mumbled a good-bye.
I grabbed his wrist before he closed his door, ignoring the spark and sizzle that zipped along my spine. "Hang on…thank you."
"For what?"
"The cereal."
"Oh." He let out a half laugh and yes…his face went a shade pinker. Fuck, that was both cute and hot at the same time. "It was silly."
"I love silly. I'm a huge fan of all things ridiculous. Ask anyone."
"I believe you."
"Good. So…let's agree that this doesn't have to be weird. We're grown adults. Well, you are anyway. We can call it a celebratory kiss if you want and move on. What d'ya say?"
"Yes, okay. I'm—I'm sorry about"—he circled his wrist meaningfully—"everything. I overreacted."
"You mean the part when you yelled at me for getting sand on the floor? I forgive you."
"No, I was serious about that part."
"I know. But don't worry about the other thing. Boners happen."
Braden sputtered. "I did not have a boner."
"Liar. We both did. Might have been your mom's fudge," I teased.
"You think my mother's homemade fudge gave you a hard-on," he repeated incredulously.
"Dude, chocolate totally gives me wood. Or maybe she added a chemical substance that made us too relaxed."
"Like what?"
"I don't know…weed?"
Braden snickered. "Unlikely. My mom is very proper. I don't think she even knows what weed looks like."
"Hmm. You seem kind of proper too. Do you take after her?"
"Maybe, but I know what weed looks like," he assured me. "My roommate in the dorms my freshman year was very fond of the stuff. We didn't get along at all. He was a total—"
"Slob?" I supplied, quirking my brows.
"Yeah." He shrugged carelessly. "I was probably overbearing, but in my defense, I come from a super rigid household. I'm an only child, and I was sick a lot when I was little. I had colic and sensitivity issues. I'd break out in rashes if I was in the sun for five minutes or if I ate citrus. My asthma was off the charts. I had a nebulizer at home, and I carried inhalers everywhere I went."
"That's a lot of information," I said with a laugh.
He winced, then sucked in a deep breath. "Sorry. I don't know what's wrong with me. My geek is showing."
"Ha. Nothing wrong with that. You like me, eh?"
Braden chuckled. Like I'd hoped he would. "What makes you think that?"
"You kissed me. Twice. We might as well get married and pick out His and His towels. Thoughts?"
"Great idea. Just don't tell my mom. She'd have a heart attack. She was already worried I'd moved in with you because you were my…"
"Boyfriend," I supplied.
"Yeah, except she has a hard time saying that word, so it comes out in a strained whisper like…boyfriend." Braden modulated his voice to sound like a scared woman. He grinned when I busted up laughing, and I could have sworn a ray of sunshine burst through the wall of our apartment.
4 of 5 Stars
This is another great book in this series! It can definitely be read as a standalone. Elliott is in a previous book, but he is nothing like he seemed in that book. Being from California with two kids who played volleyball, this book is right up my alley! This is a quick, sweet, low angst read.
I love the opposites attract and friends-to-lovers aspects of their relationship. I was highly entertained by how quickly Braden went from irritated by Elliott's slovenly ways to turned on to happy with just one sentence or joke from Elliott. Their banter is absolutely endearing. Their sexual chemistry is off the charts. They balance each other perfectly. My only little niggle is I wish the ending would have been a little longer as it felt rushed but maybe we'll see more of them in the future.
For those of you who have read the entire series, Sophie is in this one but where she has been mildly exasperating in previous books, she's downright infuriating in this one. And Elliott's volleyball partner drove me nuts!
I have no idea if we're getting another book in this series…maybe with Drew? I'm in for whatever Ms. Hayes throws our way!
Meet the Author
Lane Hayes loves a good romance novel. An avid reader from an early age, she has always been drawn to well-told love story with beautifully written characters. Lane discovered the M/M genre a few years ago and was instantly hooked. Her debut novel was a 2013 Rainbow Award finalist and subsequent books have received Honorable Mentions, and were winners in the 2016, 2017, and 2018-2019 Rainbow Awards. She loves red wine, chocolate and travel (in no particular order). Lane lives in Southern California with her amazing husband in a newly empty nest.
Website | Facebook | Twitter | Goodreads | Instagram | Bookbub
Giveaway